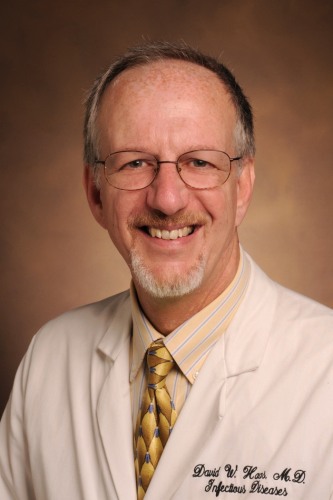 David W. Haas, MD
Professor of Medicine, Professor of Pathology, Microbiology and Immunology, Professor of Pharmacology, Associate CFAR Director at Vanderbilt
After graduating from Indiana University with a degree in chemistry in 1979, David W. Haas came to Nashville to matriculate at Vanderbilt University School of Medicine. He has remained at Vanderbilt ever since that time. He graduated from medical school in 1983, completed internal medicine residency training at Vanderbilt in 1986, and subsequently served for one year as chief resident at the Nashville Veterans Affairs Medical Center under the supervision of Dr. Roger Des Prez.
D​​uring his subsequent infectious diseases fellowship, he devoted several years to fundamental cell biology research, studying transcriptional regulation in eukaryotic cells, under the mentorship of Dr. Curt Hagedorn. After he joined the Vanderbilt Division of Infectious Diseases faculty, his efforts transitioned to clinical research. His initial efforts were focused on bone and joint infections, as well as infectious sinusitis.
In 1994, he became Director of Clinical Infectious Diseases Services at Vanderbilt, a position that he held for the next eight years. During that time, his clinical and research focus shifted almost entirely to HIV/AIDS. For many years, his research has focused on the impact of human genetic variability on HIV treatment responses and complications. His transition into human genetics research was possible only because of guidance and collaborations with Drs. Alastair Wood, Grant Wilkinson, Richard Kim, Jonathan Haines, and Marylyn Ritchie.
For more than two decades, he has directed Vanderbilt's HIV Therapeutic Clinical Trials program, and he presently serves as associate director of the Tennessee Center for AIDS Research (CFAR).