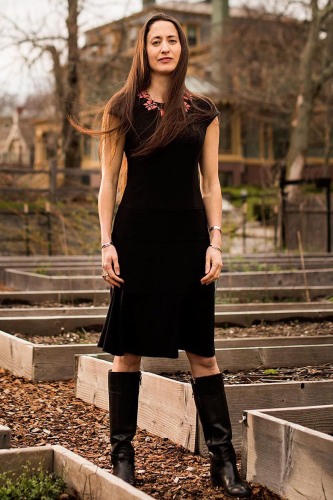 Elizabeth Hoover, PhD
Associate Professor, Department of Environmental Science, Policy, & Management at UC Berkeley, Formerly: Assistant Professor of American Studies at Brown University
Advance-CTR Pilot Projects Program (2016)
"COMMUNITY-ENGAGED TRIBAL RESEARCH TO ASSESS DIETARY EXPOSURES TO MERCURY AND PCBS"
CO-PI: Marcella Thompson, PhD (Contact PI) 
This pilot project is congruent with the National Institutes of Health and Rhode Island Department of Health's strategic priorities to reduce environmental exposures and promote health living. There are both risks and benefits to consuming fish. Indigenous fish consumption and fishing traditions are adversely impacted by environmental contamination. The long-term goals are to assess the impacts of tribal land and watershed contamination on tribal members' health; build the capacity of Narragansett tribal leaders, adults and youth to address their concerns about contaminated fish in tribal waters; and connect this community's cultural ways of knowing with technical and scientific knowledge. The aim of this proposed project is to describe tribal members' consumption of fish through a culturally appropriate household based survey among the Narragansett. Recent testing of fish tissues have revealed elevated levels of two environmental neurotoxicants, mercury and PCBs. There are four specific aims: 1. To establish an infrastructure (interviewers, recruitment, data collection, data management and analyses) that will serve as a basis for future studies; 2. To estimate Narragansett tribal members' current and seasonal fish consumption rates; 3. To determine the frequency of recreational and subsistence fishing among the Narragansett; and 4. To estimate Narragansett tribal members' annual dose of mercury and PCBs given the contaminant levels in fish living in two tribal ponds. The cross-sectional household based computer-assisted survey will be structured to capture fishing-related activities; current and past preparation and consumption patterns. For those who fish, this survey will concentrate on fish species commonly found in local freshwater, the Bay and offshore. Additionally, food insecurity will be assessed. Tribal members will be identified using the tribal registry. Native people will be hired and trained as interviewers. Recruitment will be facilitated by the Narragansett Tribe and the Indigenous Empowerment Network. As a pilot study, it is anticipated that 150 households or approximately 404 individuals will participate. Fish consumption rates will inform tribal leaders' decisions about fish advisories as well as a health impact assessment of these exposures.
Mentors