On June 14th, members of Advance-CTR's Community Advisory and Action Board (CAAB) gathered for an inaugural meeting at The Community Collaborative in Providence.
The aim of the CAAB is to provide a forum for open communication between the broader Rhode Island community and Advance-CTR. The formation of this group of is one of the goals of Advance-CTR's newest Core - the Community Engagement and Outreach Core. Core is built around a philosophy and culture of partnership and reciprocity.
"Advance-CTR has begun the second 5 years of funding. Our theme is 'Health Through Discovery' with the intention of positively impacting the health of Rhode Island residents. Community engagement and outreach will be a major emphasis of phase 2 of funding." said Sharon Rounds, MD – Advance-CTR's Program Director. "The Community Advisory and Action Board is a critical component of community engagement since the CAAB can ground us by reminding us of the health needs of the Rhode Island communities whom we serve."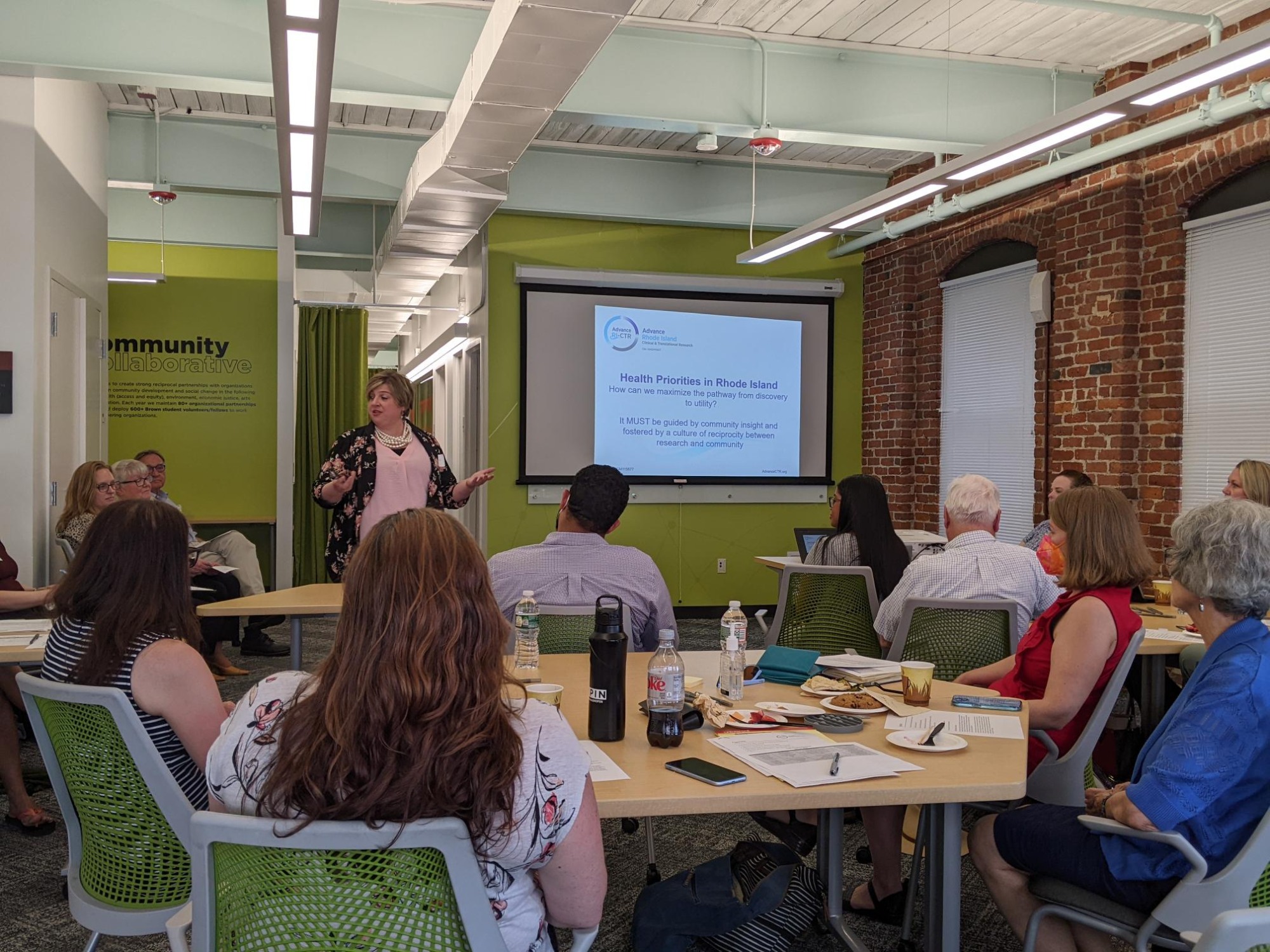 Photo: CAAB Community Chair Bianca Policastro talks to CAAB members about Health Priorities in Rhode Island during the inaugural meeting on June 14, 2022.
The CAAB members are representatives from public health entities, non-profits and other organizations from all around Rhode Island. They are the boots on the ground and their voices will help align research to practice. Dr. Rounds says the CAAB members represent diverse groups in our state and bring a wealth of knowledge and experience to inform investigators.
"We will ask the CAAB to advise us regarding Advance-CTR research priorities, based on health needs of the state. In addition, on occasion, we will ask the CAAB members to assist investigators in design of their research to most effectively reach out to the community and address key health needs of the community." said Rounds.
Amy Nunn, ScD, the Director of Advance-CTR's Community Engagement and Outreach Core worked throughout the Spring to invite members to join the CAAB, with high hopes their input will make a difference.
"Clinical Care only accounts for about 10% of all contributors to health outcomes. Our healthcare system needs to do a better job responding to the social and structural determinants of health. We need community input to ensure that we address the structural and biological and structural determinants of health." said Nunn.
Advance-CTR's CAAB will come together and meet as a group quarterly. The next meeting is slated for the fall.
"We were thrilled with the amazing turn out and the positive momentum around this new group and its commitment to helping us do research that is more responsive to our community's health needs." said Nunn.